Best tool for Niche Affiliate Websites on WordPress
Any owner of successful affiliate website can tell you that best conversion and commission are in local popular shops. There are many good plugins for affiliate marketing, but all of them are working with big networks, because local shops don't have own API and don't take a part in any affiliate networks. This is why we created Affiliate Egg plugin, which are working with many shops which don't work in any other plugin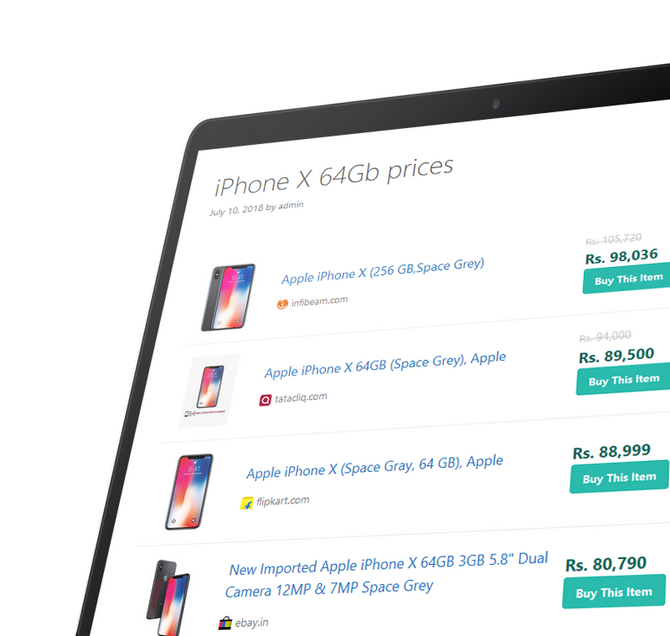 Affiliate Egg benefits
No need for program approving, no need for API, you can use plugin immediately after installation
Separate product parsing and multi product parsing of categories, search results, deal pages
Autoblog feature. Insert link on shop category and plugin will take new products from category and post on your site as separate posts
Several output blocks (grid, list, product card, etc)
Price update
More than 100 supported best local shops and we add more and more each month
Custom cookies to get correct currency from multi currency shops
Deeplinks and SubIds
Proxy support
Parsing search pages (for example, you can create set of products with definite price range, conditions, sorted by popularity from original shop
Some Supported shops
We gather all buyer's suggestion during several years and make list of best shops with best conditions and commissions. You can get more commission than Amazon can offer you. Even if you didn't find shop, we provide tutorials how to create custom parser (for developers) and paid service to create your own module.
 Ebay (.com, .de, .in, .es, .com.au, etc)
 Etsy.com
 Souq.com
 Bodybuilding.com
 Shopclues.com
 Wiggle (.com, co.uks)
 Fnac.com
 Flipkart.com
 Lazada.vn
 Jumia
 Gearbest.com
 Croma.com
 Walmart.com
 Bestbuy.com
 Newegg.com
 Industrybuying.com
 mercadolivre.com.br
And many others… Here are the full list of Affiliate Egg supported shops which are sorted by currency
How it works
It's very easy. Add link in storefront to your shop page or category page where you want to get data and copy shortcode. Use shortcode in any part of your site. Then plug-in continues to work in automatic mode. Periodically update prices and availability of goods and products in the directory, to have always the latest information.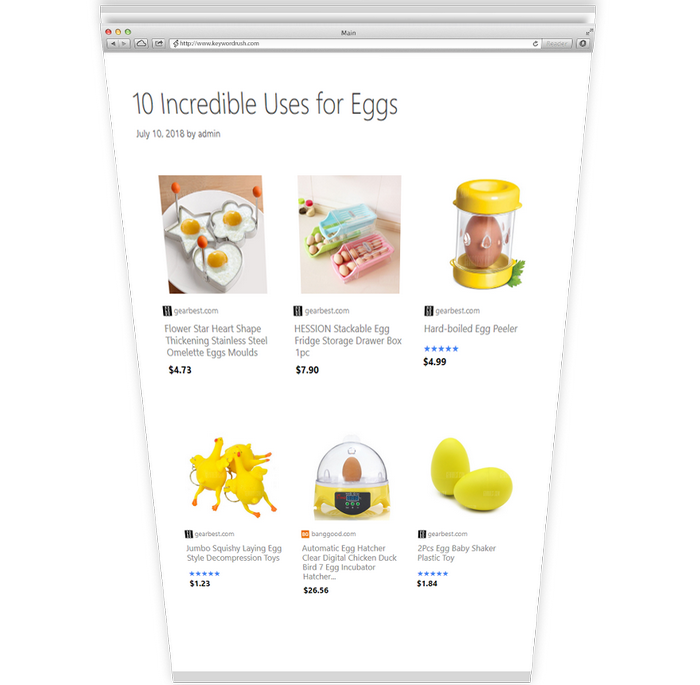 Where to use
Niche thematic sites
Product Review Websites
Sites on autopilot
Create landing pages for contextual advertising / search traffic
Creation of trade showcases
Need multiple license pack with maximum discount?
Limited time offer! This plugin is available in Content Egg Pro + Affiliate Egg Pro + Cashback Tracker Pro bundle pack.

How it works videos

Affiliate Egg Pro Plugin – How it works: https://www.youtube.com/watch?v=lxT2_awpnxY
Affiliate Egg Pro – How to Create an Autoblog in WordPress: https://www.youtube.com/watch?v=yi45evBGxjY
Content Egg + Affiliate Egg Integration: https://www.youtube.com/watch?v=wpU-dGLtJbg
Affiliate Egg Or Content Egg?
We have also another great plugin for Affiliate Marketing Content Egg . So, which is better? Answer is BOTH, they do similar job, but with different methods of work and functions. Affiliate Egg uses direct web parsing, Content Egg uses API of networks. Most of our buyers use both plugins, this is why we created Affiliate Egg integration to Content Egg to give you common environment and additional benefits of combination with two plugins.
Integration with Content Egg
You can get even more. We provide advanced integration with our another plugin Content Egg. It will work even with Free version of plugin which you can download for free. With such integration you can get much more functions, like Woocommerce integration, Price History, Price alerts, Keyword search and keywords based autoblog. With combination of two plugins you can cover all needs which possible for Affiliate Marketing. See details http://www.keywordrush.com/en/docs/content-egg/AffiliateEggIntegration.html